[20.05.] Camps around Heiligendamm
---
[11.05] festival opening for the Convergence Center Rostock
---
[10.05.] call for radio-translation support
---
[05.05] update: arrests in utrecht Here is an update on the 100 cyclists and Gr8chaoskaravaan members arrested at the anti-G8 demonstration in Utrecht today.
---
[15.04.] Convergence Center in Rostock needs your support
pictures of the convergence center in rostock
---
[05.04.] today the "east" bikeride started in budapest Bikerides to the G8 summit 2007
---
Resistance Art Festival in the region call out
pictures of Kempinski Hotel while the Campinski took place in August 2006.
Infos about local project in Rostock "AntiG8-Polit-WG" contact: big-8[at]web.de, see also at "Texts" at this wiki for more infos.
NEW:

english newsletter from gipfelsoli
---
---
Concept of Netzwerk Videoaktivismus ('Videoactivism Network')for mediawork around the G8 2007 in Heiligendamm
---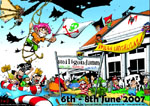 Poster from gipfelsoli