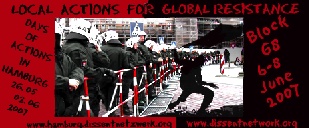 (deutsche version) , version francais , (versión espańola)
In Hamburg there will be a International Demonstration at monday the 28th of may against the ASEM / EU foreign affairs ministers meeting and several Days of action befor and after it.
Friday, 25th of may
- bycicle caravan skandinavia and west / Critical Mass
- Opening of the Convergence Center Hamburg
Saturday 26.05.
- walk through the quarter "Schanze" with a lot of information and activity-orientation ( 3 pm | Achidi John Platz (Ex-Schulterblatt) | in eng. and ger. )
- "plier-demo" At the 26th of may 2007 there will be two big demonstrations against the G8 education-politics, one in hamburg and one in berlin. Start of both demonstrations is 3 pm. Berlin (Lausitzer Platz in Kreuzberg) and in Hamburg (Uni Campus). more infos
Monday 28.05.
-International Demo (12 Uhr Reeperbahn / Spielbudenplatz, St.Pauli)
Tuesday 29.05.
- No Lager Caravan arrival
- Actions against the EU-summit
Wednesday 30.05.
- No Lager Caravan in Hamburg and at the deportation prison Horst near Hamburg
- "Beat Capitalism": walk with bands and speaches (Kettcar and other) and "Spoken Words" (Trampert/Ebermann and other) (Start: 3 pm Wilhelmsburg – Rathausplatz – Landungsbrücken - destination Sternschanze)
Thursday 31.05.
- acions at the deportation-Lager Horst
- "Unterm Cluster liegt der Strand" Contest-Strategies of european metropolises - social struggles and perspectives of resistance. Panel discussion with contributors from Hamburg and variouse EU-metropolises. (enquired: Vienna, Copenhagen, Barcelona, Rotterdam, Mailand) Kölibri, Hein-Köllisch-Platz 12,7 pm
from friday, 01.06. on
- travel to the demonstration at the 2nd of June in Rostock and to the antifashist actions in Schwerin against the fashist demonstration on the 2nd of June - Block G8 - Fight Nationalism!
more actions are prepared and will take place.